Now that we have internet that doesn't cost a boat buck a gig, I can get some posts I have written up on the blog.
SAYING GOODBYE TO TONGA…
How do you say goodbye to a place where you spent 9 months and became locals. It was with trepidation that we hauled our boat out into the protected rock quarry of Boatyard Vava'u to spend 6 months living on land. It had been 10 years since we had been dirt dwellers and we were worried that the flatness and solidity of the dirt would drive us mad…and it did. But the great people we met and became friends with in Vava'u were worth every bit of it.
As cruisers, you eventually get used to being detached from long term friendships. You always seem to be saying goodbye to someone who you wish you could hang out with forever. But this is the way of sailors, and a way we have gotten used to. But during our 9 months in Tonga we developed relationships with people that we have not had in a long time and when we went to leave…it was hard. However, after the boat went back in the water, we felt the sea calling us to discover new waters and we had to say goodbye. There were several departures….and reappearances…as Palarran shook out her rustiness and let us know a few things needed attention. But as we sailed away from the Vava'u group one evening, it was with tears in our eyes. We know we will return some day, but it was like leaving home a little.
Thanks to all who became our friends and shared their lives with us. You all will forever be in our memories.
Here are some memorable moments of our time in Tonga.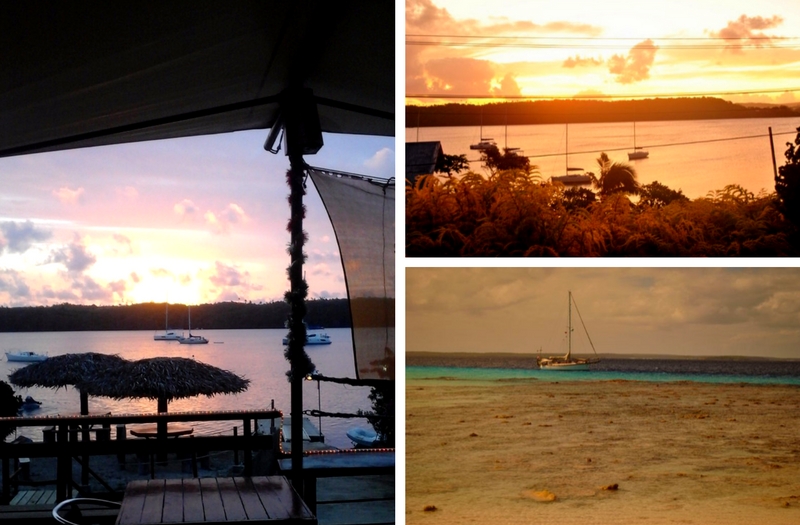 The sunsets were amazing and got better each day as we progressed into the austral summer. The top one to the right was the view from our apartment…about the only thing that was good about it :-)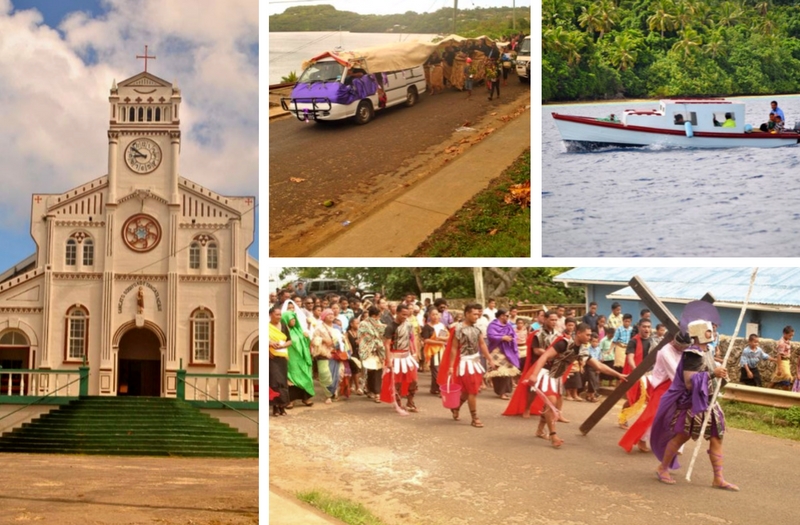 The Tongans are a deeply religious people and most of their social structure is based around the Church and Church activities. On Sunday the local island boats are packed full of people coming from the outer islands to attend Church and the family feast that follows. Lots of the original culture such as hand woven mats (as seen in the funeral procession above) have been blended with western religion. Men dress in Tuvelu or a lavalava with grass woven Ta'ovala over the top and women wear conservative dresses with either a Ta'ovala or KeiKei (a lighter belt version of the woven mat). No amount of extravagance or money is spared when it comes to funerals, weddings or baptisms…which sometimes is a burden on the family monetarily while they try to one up their neighbors. The Church has its positives and negatives on the Tongan way of life. On one hand, they are an extremely tight knit peoples with good morals, family values and dignity. But on the other hand, the Church has a very strong influence on government and the decision making process as a whole, which ends up hurting tourism, progress and in the end it is the individual families that suffer.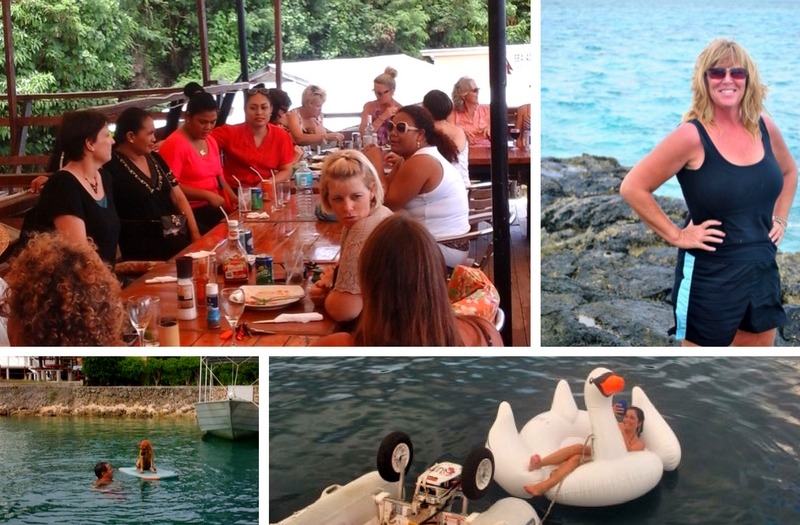 Long hot summer days were filled with Ladies Lunches (an event organized by the amazing Sandy, getting women from all over the town together to socialize and have a rip roarin' good time), floating off the dock to keep cool and of course…dragging the famous swan around the harbor behind our dinghy. Above are photos of a few of the friends we made while in Tonga. Julie, Nikki and Charles….we had some damn good times eh?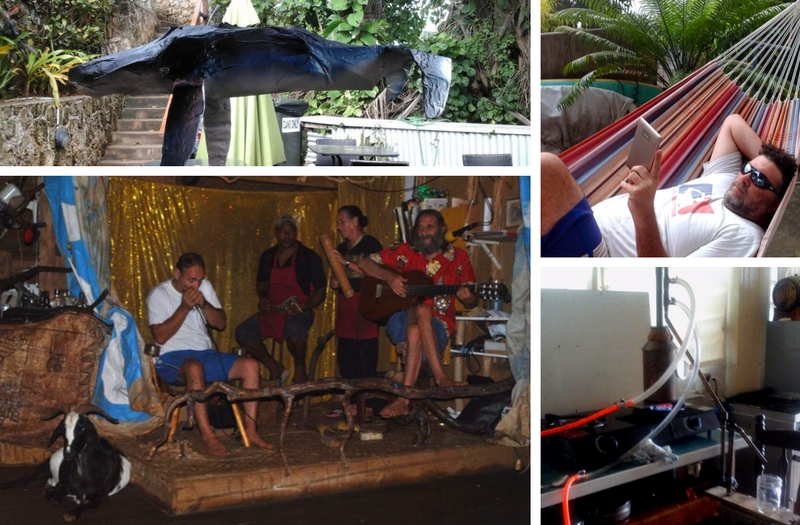 Aside from working on the boat, flying home for work and hiding from the sun, we also managed to relax a little :-) Summer time is off season, and the locals both expat and Tongan let loose after a season of hectic tourism. Local bands play at bars filled with towns people cooling off from the hot summer days with a few Fosters or Papaus. And every now and again a little culture from distant lands appear…like the whale pinata my friend Nikki made (probably the first and only pinata that anyone had ever seen on the island). We also found time for a new pastime of making hooch!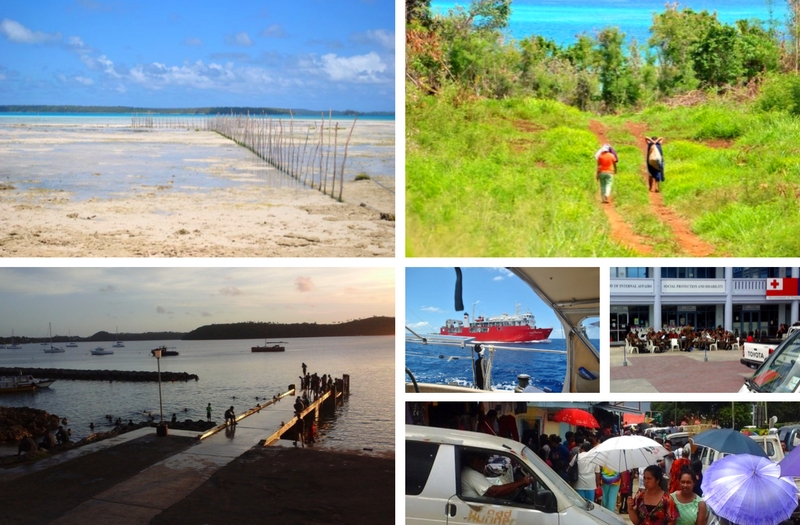 The Tongan lifestyle is slow and relaxed, although it may seem a little tough from the outside. Fish is the main protein source and long fish fences are set up to trap fish at high tide while the villagers go out and pick out the keepers. For those living outside of town…or in the bush…hot walks down red dirt trails are often the only way to get supplies from town. Tonga is in the middle of beyond and all food imported must arrive on The Big Red Boat or the sporadic freighter from New Zealand. If weather is bad or a ferry breaks down, the town will run out of food. Which happens more than you would think. While we were there we witnessed the great potato famine of Christmas 2015, a sugar embargo crisis lending to shaky sugar addicts begging for even a spoonful of sugar and the weekly egg, bottled water and chicken shortages. But over all, Tongans are prideful happy people, who may not seem rich in wealth, but are rich in life quality. You will never meet a stronger family unit or a more welcoming people.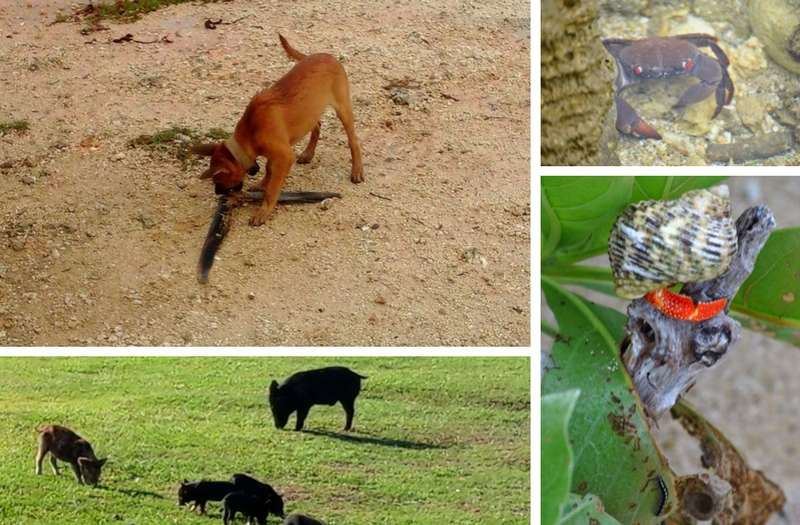 Dogs and pigs rule the streets and you should not be surprised to see pigs wandering through town or dogs making off with a fish bit every now and then. The water is clear and teeming with sea life among its brilliant reefs. And of course….the never ending hermit crab…that has been prevalent since we left the states…these little guys are very prolific!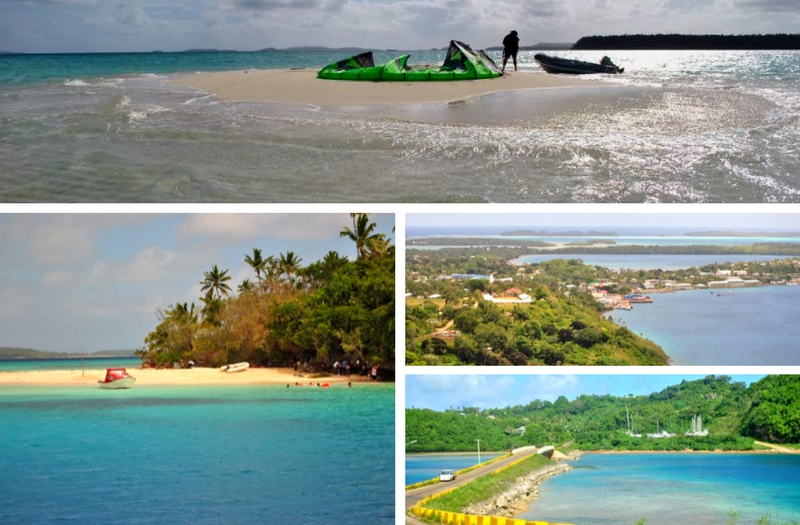 The Vava'u group is a series of protected islands with a large outer reef that protects the inland waters from swell. The highest point in Tonga is in Vava'u and one of the reasons it is a natural cyclone hole. The lower right photo is of the boatyard where we stored our boat. You can see the high hills surrounding the masts. The shallow flat waters are perfect for kite boarding and where we both got up on our kite board for the first time…albeit for a very brief moment.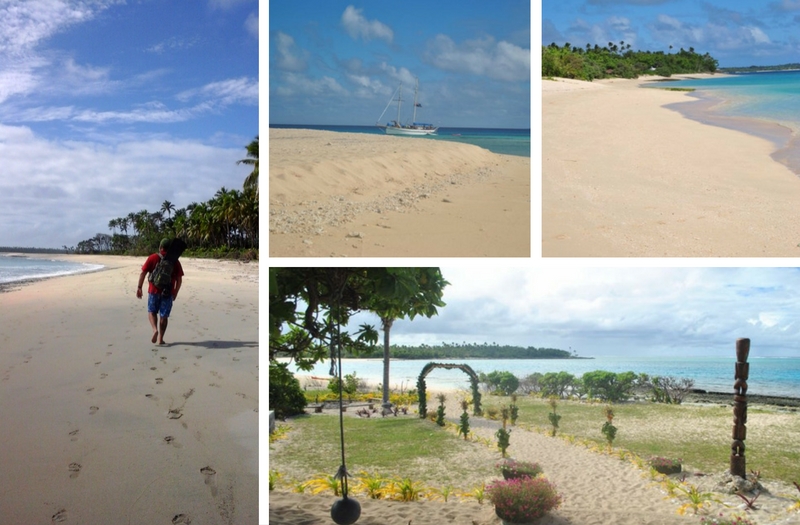 The island group just south of Vava'u is Ha'apai which is more exposed, but sports long white sand beaches and bommie filled waters that are great for snorkeling, diving and spear fishing. We spent our last month here and enjoyed every minute of it…as well as making some new friends at the Ovalau Yacht Club. But for us, the Vava'u group was where it was at and our favorite place during our time in Tonga.
As you can see, Tonga has everything that goes into the perfect recipe for paradise. We will forever remember the aqua blue water, flat calm anchorages and friendly people. We left a little bit of ourselves in Tonga and will someday be back to find them again.