Here's one that got lost in the ether….
Hello from Bora Bora! We have been here a little over a week and are really enjoying thearea. The colors of blue are so intense that they reflect off the bottoms of the clouds when the squalls roll through making the clouds look aquamarine. There are mooring areas here, but we have found a lot more to do exploring the outer areas of the island. The main island is not all that big….only 32km (about 19 miles) around. We rented crappy bikes and peddled all the way around in a little over 2 hours. There are a few towns and lots of fancy smancy resorts…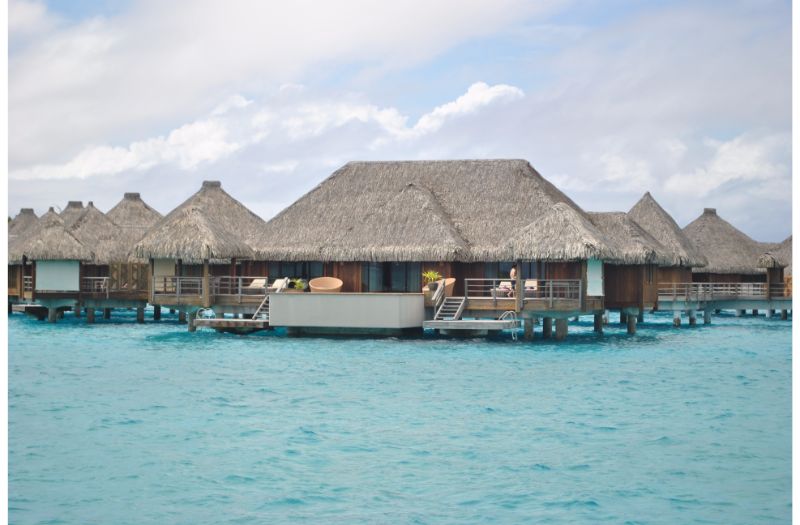 you know the ones…beautiful thatch huts hanging over the water on stilts. We anchored just outside of some of them. We actually attempted to make it through this pass…
but wind and current caught us and, well…u know the story…there are 2 types of sailors, those that went aground and those who lie and said the haven't😉
We have hiked, scuba'd, kite surfed and visited our fair share of happy hours. Here are a few photos to document the events.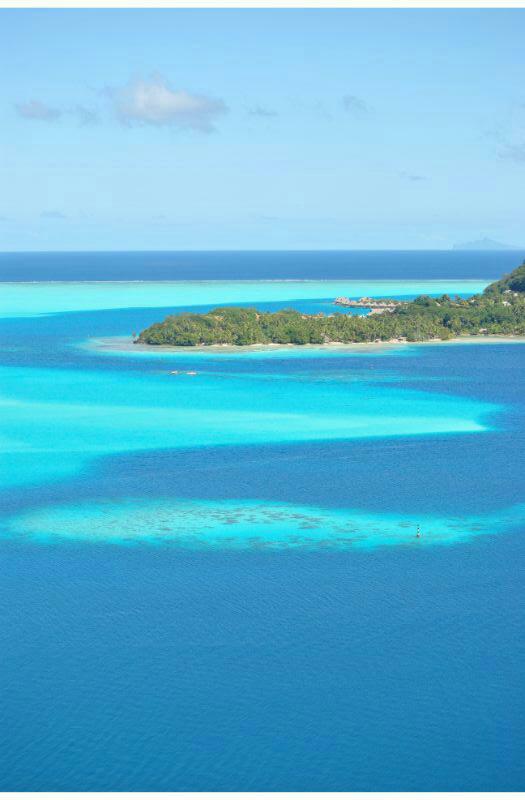 View from the radio antenna hike. The areas of light blue are about 10 feet deep…we anchored right in the middle for a few days until the weather turned stinky.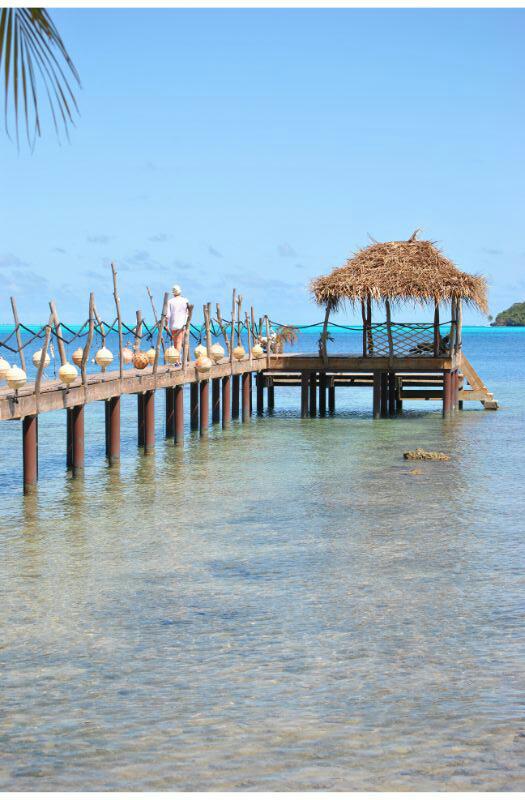 A picture postcard French Polynesian scene…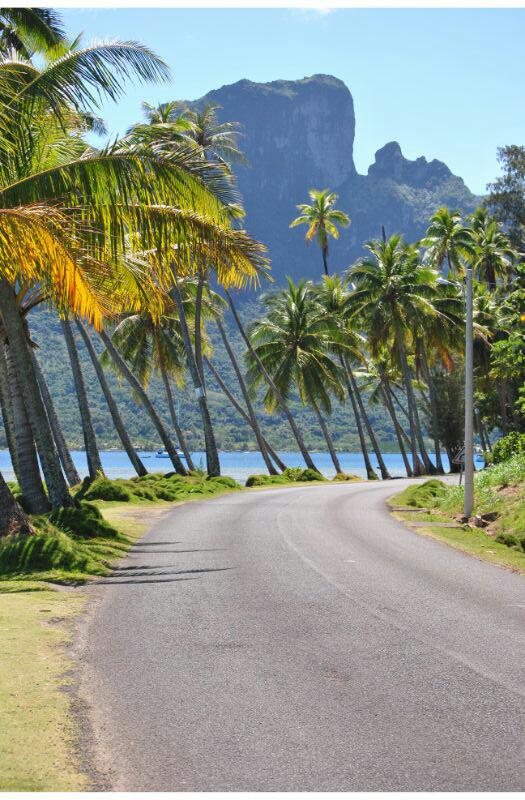 Even the views from the roads here are amazing. This is the highest point in Bora Bora….you can hike up there, and we thought about it…until a fairly young agile cruiser came back from his summit 8 hours after he left. He was huffing and puffing and kinda bloody and swore that noone should ever attempt that "trail"…so we sorta bailed on that idea…we hiked up several other peaks though.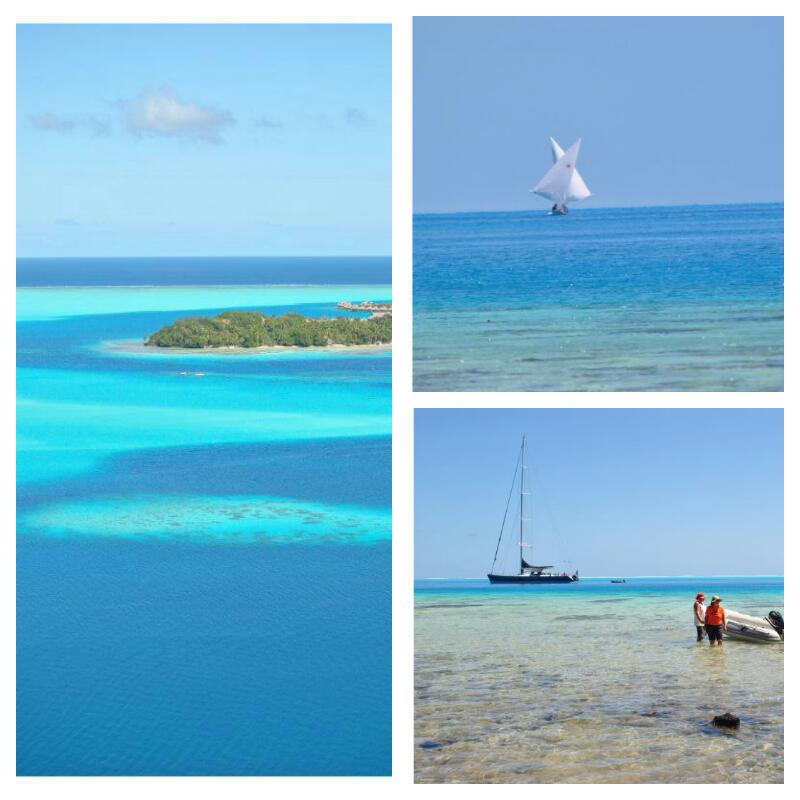 More beautiful reef…I love this shot of the two Lazers crossing each other…you can almost anchor right up on the reef until it suddenly shoals to two feet. Here, the crew of Kia Ora and us were doing some dinghy exploring. You can float the dink pretty far until you just have to get out and walk it over the craggy reef…I think we were trying to get to shore to a huge mango tree.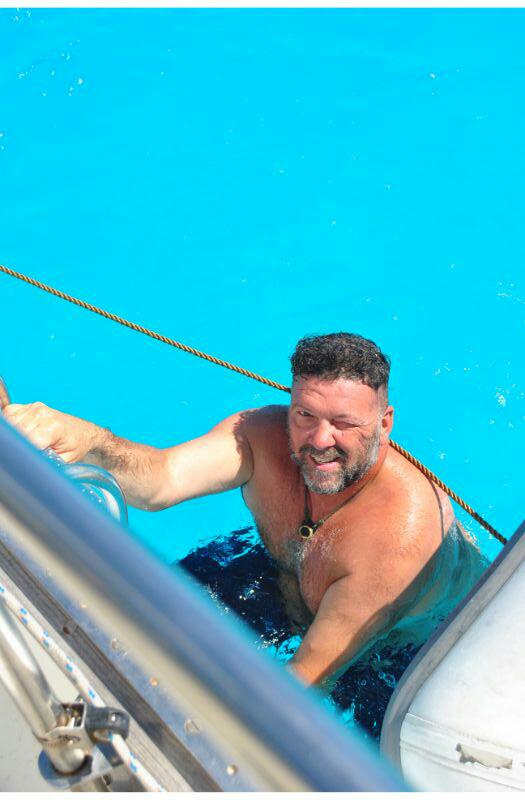 The water is so clear here it looks like CB is climbing out of a swimming pool.
Next up…catching up on Niue….caves, tidal pools and crystal clear snorkeling!