We ghosted out of Palmerston Island with light wind and the spinnaker up. Weather reports predicted the wind to pick up the next day and remain in the 15-20 knot range…yeah right! This passage was only to be 280 nm so we were looking at about 2.5 days. The winds remained light through the evening until about 0100 when out of nowhere it suddenly picked up to 15 knots. We did one of our famous oh shit get the spinnaker down douses and went with the jib. It kept increasing until it hit 25 knots. No big deal, the seas were fine and the wind was aft of the beam. We continued like this until we were about 60 nm from Niue when we ran into hell on the water. A band of squalls packing winds gusting to 40 knots welcomed us to the triangle of death as it is know. The waters between Niue, Tonga, Fiji and north to American Samoa are notorious for unpredicted shitty weather. Well, we hit it big time. The squalls had been in the area for a few days and the worst part was the seas. Palarran was surfing down waves at 11 knots! At this point we probably should have run off….but we didn't. We were so close and just wanted to soldier on. We ended up taking turns hand steering…2 hours on, 2 hours off. The weather did not get better, but we must have gotten used to it, because we went from "ohhhhhhh noooooooo shitttt", to silent grimacing and butt puckering as we tumbled from wave to janky wave. We thought about heaving too, but the short troughs and waves coming from every direction made that seem untenable. Regardless, 16 hours later we sailed into the lee of Niue just as the sun set. We hove to and collapsed in exhaustion (still keeping watch…don't worry).
The next day we were still exhausted, but had to check in…Niueans are very strict about the check in process. The trouble to get here was worth it as it turned out. The weather improved and the anchorage was amazing. Over the next week we would explore every nook and cranny of this amazing island. It is actually one of the largest raised coral islands in the world. And because the island is largely limestone with no rivers or runoff, the water is some of the world's clearest diving and snorkeling. You really should read about this unusual natural wonder here.
Niue is an amazing tourist destination. They have somehow found the unknown middle ground between gross overdone commercialism and the absolute lack of any idea where you are going (if given a choice I far prefer lost over gross). This place was designed to explore by rental car on your own. Well done maps and signs with small parking areas mark every sight seeing location. The trails are maintained…sort of. Ropes are in place in the worst spots and sketchy wood ladders descend into lost paradise grottos. But you feel like you are in a somewhat maintained environment without all the bubble wrapped safety features of the US….in fact…this whole island would be surrounded by a safety fence in  the US and only viewed from a helicopter😆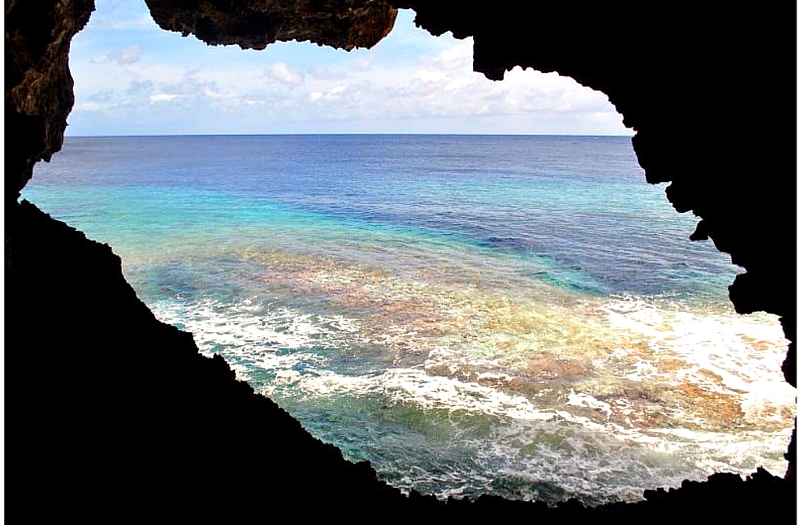 Limestone is fairly soft, and the hard coral encrusted island is slowly eroding away. Storm surge from summer cyclones have left craters, caves and pass throughs like this one all over the island.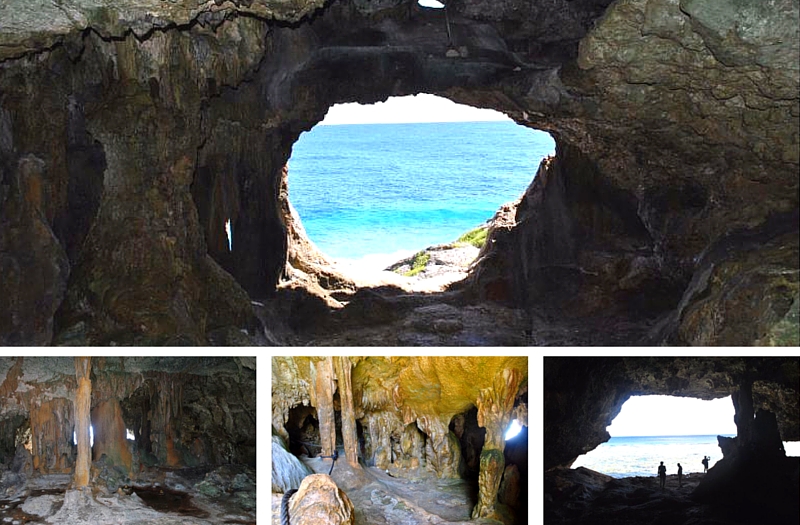 On our 2nd day the German cruisers (Katerina and Andre) we had been travelling with rented a car and invited us along. We checked out the many caves and natural swim holes Niue was famous for. Inside the caves stalactites and stalagmites ooze from every corner. The colors are amazing from the highly mineralized water that seeps from above and mixes with saltwater.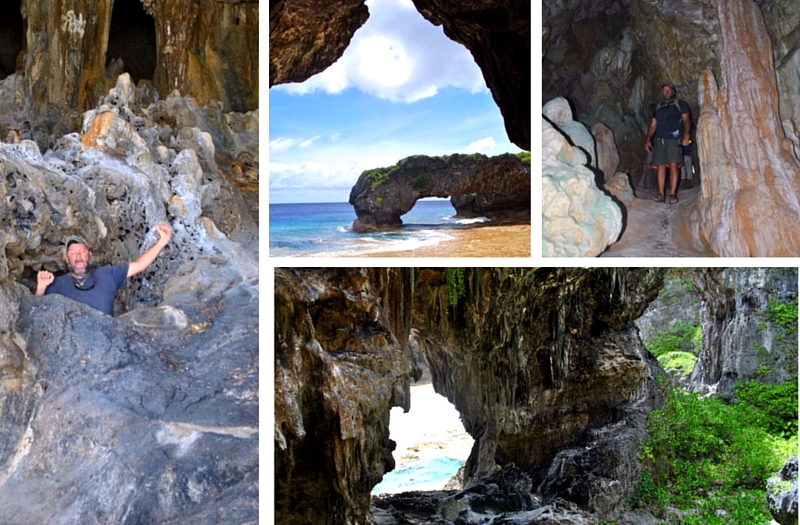 Of course CB had to ham it up in his little sleeping hole. One of the first hikes we did was down through some caves and out to the ocean where arches provided amazing views. Holes in the ground opened up into huge caverns with freshwater in the bottom…I wished I had a rope to descend into them….if only Jason Andersen were here!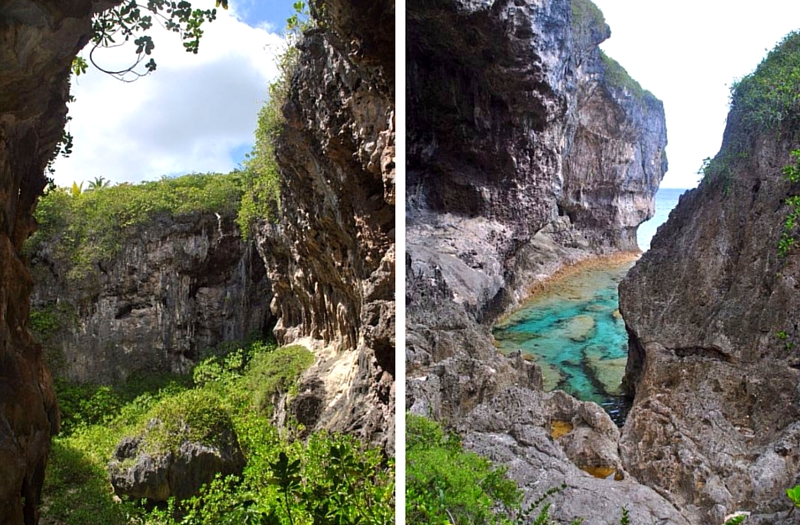 These grand views were around every corner. No…these photos are not photoshopped, the water is just that blue!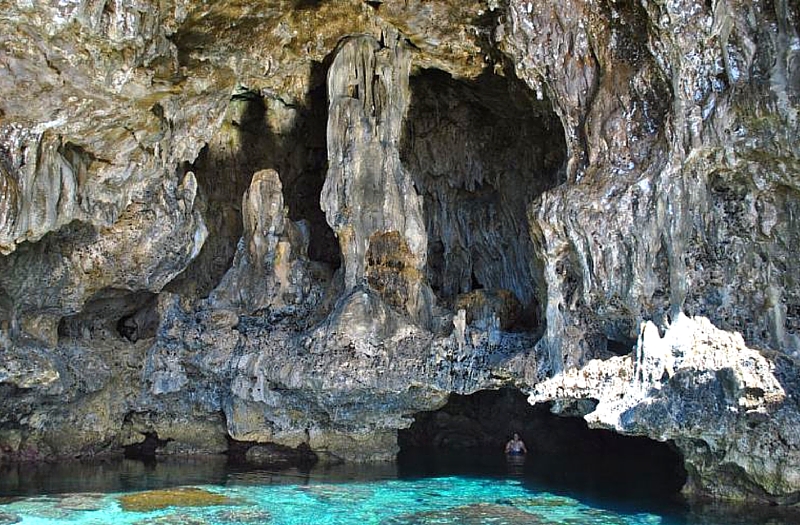 This is the protected side of the island where shallow reefs border crazy limestone cliffs. When the tide is out you can hike to these huge tidal pools that become a placid swimming pool. If you can find me, you'll notice the cave I'm standing in goes aways back. I actually climbed up through there to the cave above me and the water was deep enough to jump into…no photo unfortunately.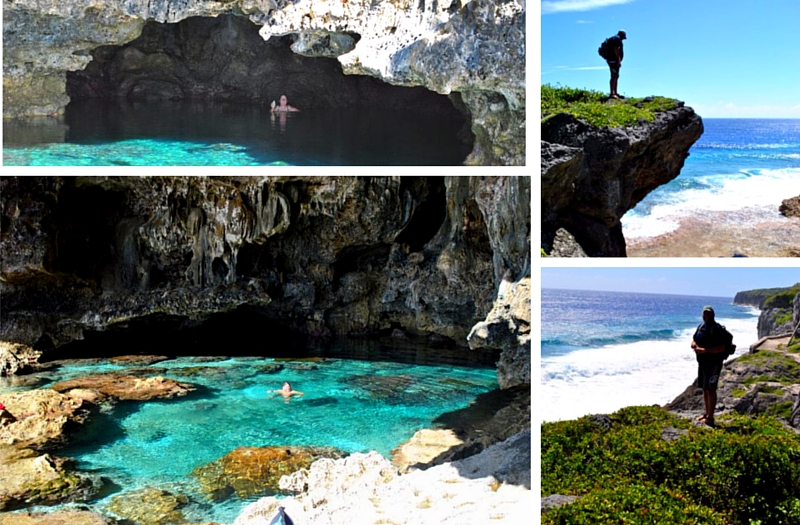 Better shot of the tidal swimming pool. Vistas from the cliffs on the islands on the more exposed southeastern shore.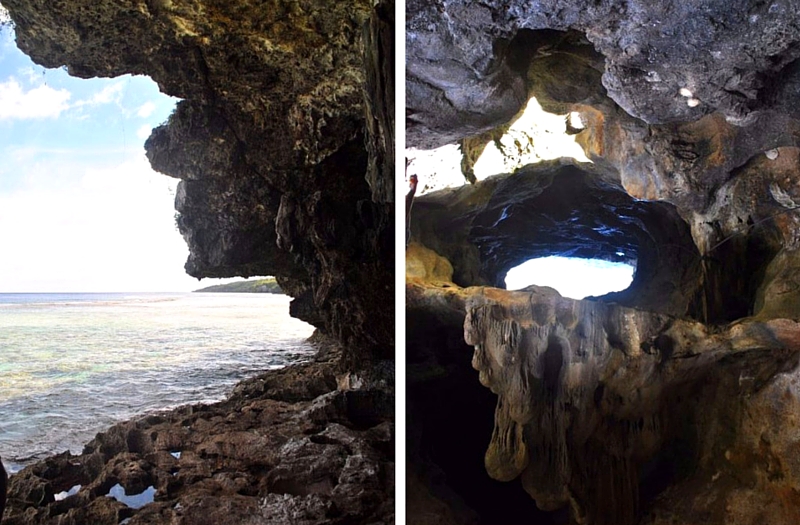 The rock formations here are off the hook. The first one looks like a guy looking out to sea with his hand shading his eyes. The next photo is of drippy mineral stalagmites oozing over a cave opening. Or a guy puking😊.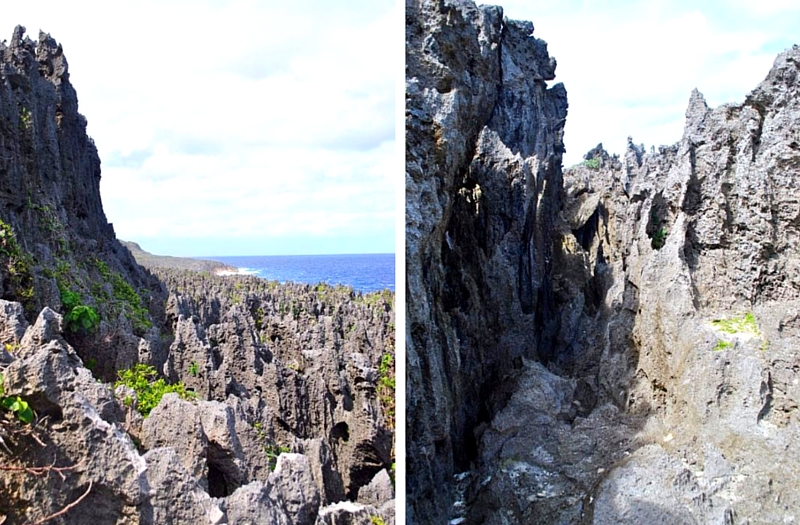 The eastern side of the island is exposed and rough. This once was the coral ocean floor. These coral formations are ridiculously sharp and made for some dicey hiking.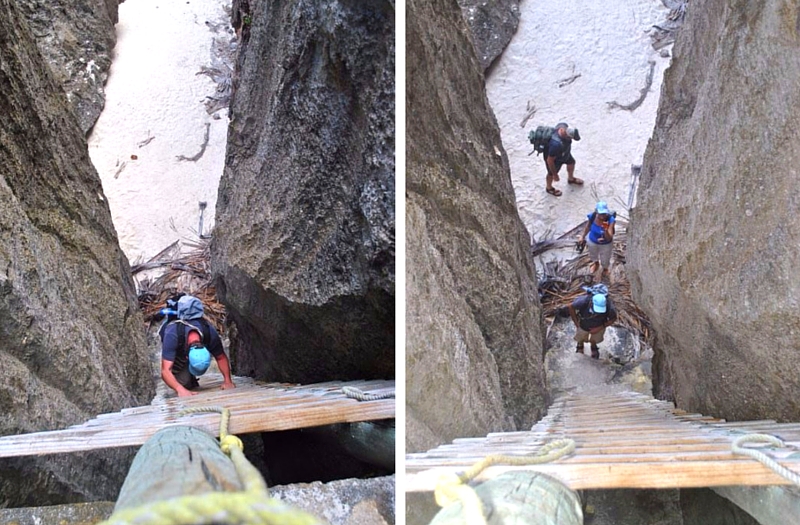 One of the hikes on the exposed side lead to this. The ladder went down about 50 feet to a deserted island grotto. Andre is a bit of a soft egg (German translation for wuss) and didn't like heights…it took him a bit to get down.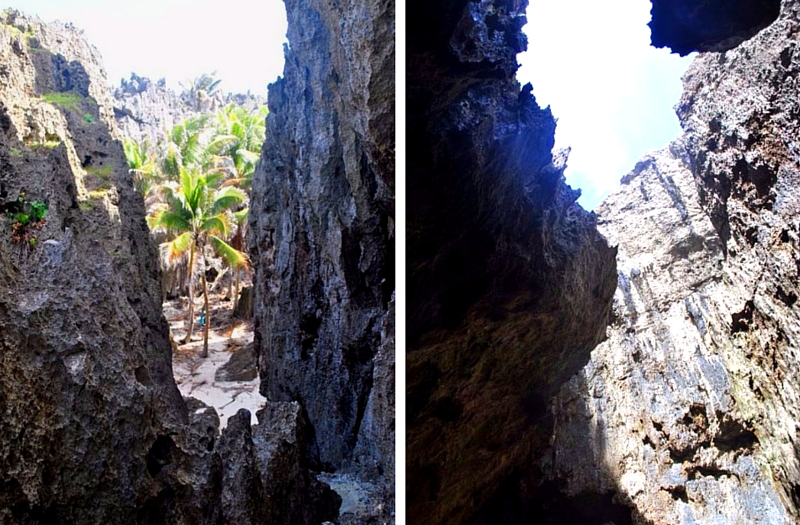 This grotto once was exposed to the ocean, thus the sand and palm trees. However, a long time ago either a storm or an earthquake closed off the water way and now a beach with Lagoon resides where the ocean used to flow. There are passages out to the ocean still and it was thundering into the echo chamber of the grotto. Of course we hiked out there…CB stood in the "pool" that is apparently a relaxing tub at low tide…but of course we were there at high and the relaxing pool was now a death trap…that didn't stop the intrepid CB from getting some video though…and almost getting swept out to sea in the process!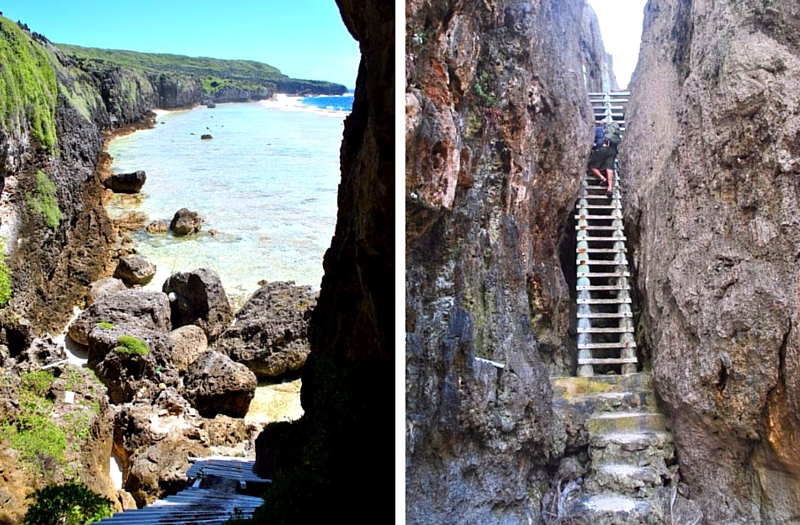 More sea treks led to amazing views and flat reef that you can hike at low tide.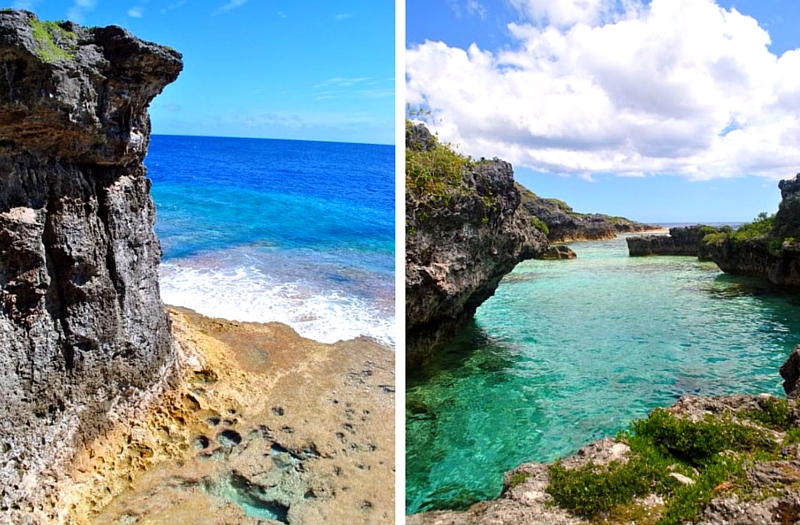 The seemingly little pools at the bottom of this cliff are actually swimming holes at low tide. The next photos is of an inland snorkeling area…probably one of my favorite places so far. The ocean seeps in past the reef to fill up this inland waterway full of swim through caves and amazing sea creatures. I saw my first sea snake and octopus here. We have video that will show up some day when we are not slurping our internet through a clogged straw.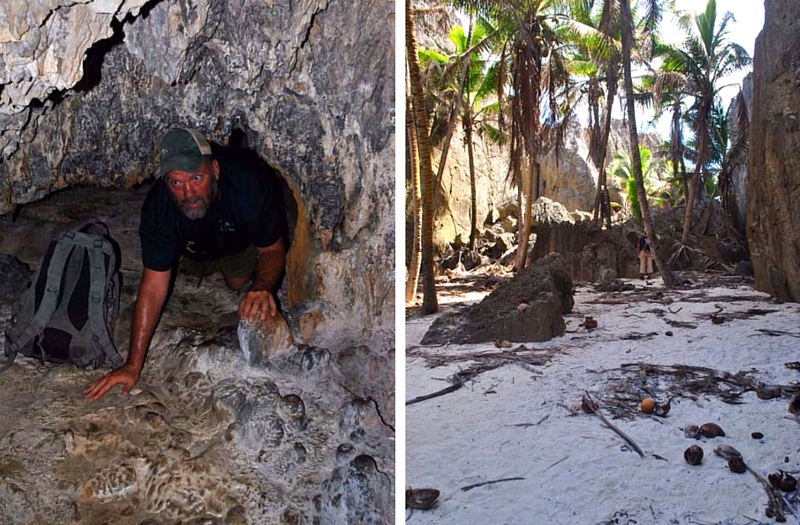 Crawling through caves was awesome…albeit a bit spidery. But the other side led to to deserted beaches like this one. I kinda felt like Indiana Jones on Niue.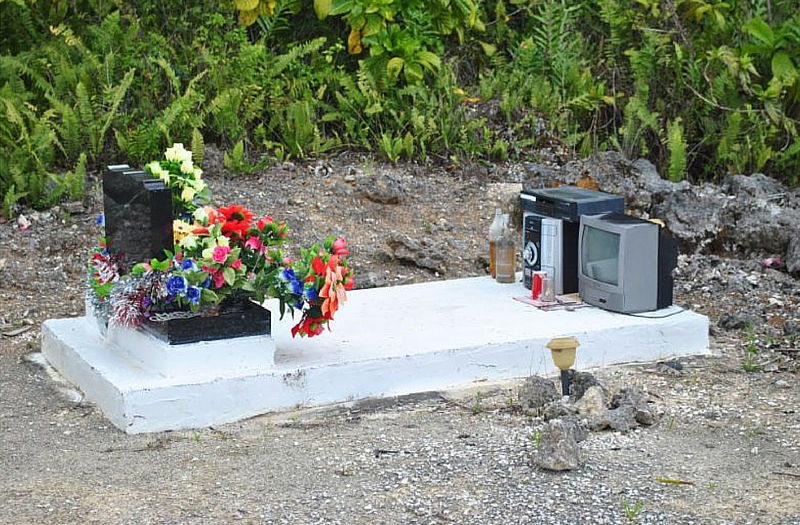 Another interesting bit of history is that Niueans bury their dead on what they deem their families land, although we heard the claims to the land were a bit foggy. But on an island this size with so few people, I doubt it mattered….no one lived out in the bush…just buried the dead there…right out front along the road for everyone to see. This guy was apparently a fan of rum, TV and music…because if you can tell…there is a half drunk bottle of rum, some mixer, a sweet 90's TV with VCR and same era stereo…A whole 'nother take on pouring a little out for your dead homies.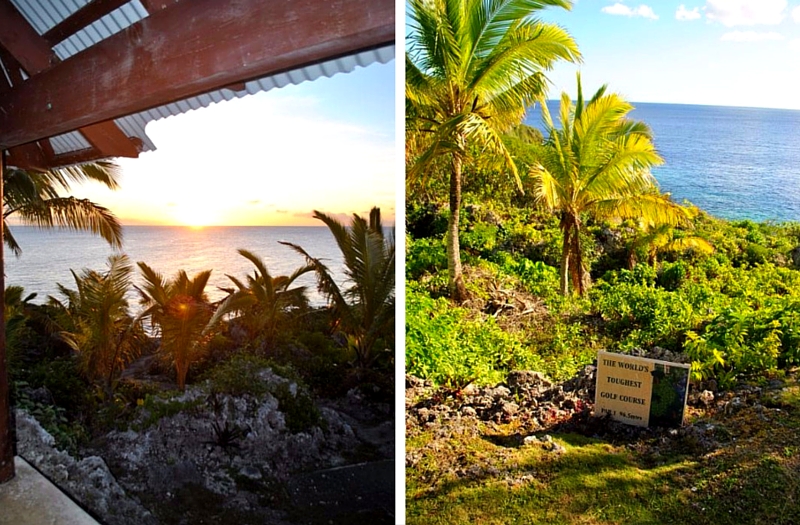 At the end of the long day filled with amazing hikes and swimming opportunities…we of course found the 'Sail Away' bar. The views couldn't be beat, and neither could the local colorful conversations we had. We left with a bunch of friends that said hi everyday as they passed us or offered a ride. This bar claims to have the world's toughest golf course. You can actually crack one off into the ocean from that sign…what is a hole in one? Stuffing a ball into a whale's blowhole😯 Just jokes about the blow hole…but there were whales right out front while we sipped cold brews from  the deck.
If you ever get the chance to go to Niue…do it. We also did a dive there where you swim up an underwater channel through stalactites and up 80 feet to surface in an underwater cave. There is air to breath, although the wave surges pop your ears something fierce. We have video of this too…but ya know….
From here we had probably our best sail yet, all the way to Tonga where Palarran is enjoying a bit of a dry out period on the hard. We will be going back in the water around the 1st of April and can't wait to start our adventures again. This living on land thing kinda sucks!